Writing is my full-time job. I write pretty much all the time. Like, probably 10-16 hours a day, I'm in my chair typing and researching. I had a very extreme writing block for a number of years and was unable to write anything at all, so now that I can write, I'm a little afraid to stop.  I break for food, sleep and yoga classes, and I take vanity breaks, as well.
Every week, I get a blow-out. I hate washing and drying my own hair. It takes me 45+ minutes to dry it, and it's never as smooth as I want, so now I just don't bother. I have thick hair, so I can get away with washing it once a week. It takes my stylist just as long to dry it, but somehow I don't mind it as much, and she gets a better result than I ever do.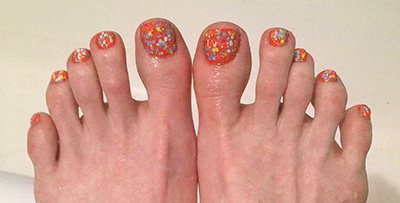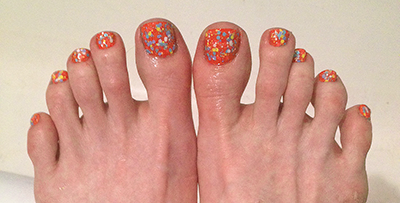 Roughly each week, I take an hour or so to give myself a pedicure. Even though I'm somewhat ambidextrous, that facility doesn't extend to painting my own fingernails. I can get one hand neat and nice, but the other is a slapdash mess, so manicures aren't fun. It's much more satisfying to do my toes and have them all look good. In recent months, I've been all about the glitter topcoats. I've got a fairly sizable polish collection and haven't even used them all, but that doesn't stop me from getting more.  Zoya polishes are my staples, and I've only recently branched out into indie brands like KBShimmer and Cirque Colors, specifically the glitter polishes.
I don't do a full face that often, but I went crazy and got about 30 sample shadows from Fyrinnae, and I've been randomly giving myself makeovers just to try things out. All of the shadows have some degree of shimmer, from subtle to dazzling, and the colors are absolutely unique. They're a small operation and seem to get frequently overwhelmed by order volumes, but their products are beautiful, of excellent quality, and so worth trying. The samples are very generous, enough for multiple applications. Everything is vegan, if that's of concern, and the company makes a point of saying they're "dedicated to serving customers of any gender and any skin tone," so, yay for that.
It's easy to not take care of myself at all while I'm in the midst of a writing  project, so having regular appointments and shiny distractions keeps me a little more aware of my physical self and a little less likely to devolve into an unwashed troglodyte, though I still spend a lot more time in my pajamas than is good for me.